home velotour 2004-2008 contact

update reports pictures
report 50&nbsp&nbsp report 51
Report 51 +++ October 2008 +++ Beltana, beautiful ghost town in the Flinders Ranges of Australia
After almost 3.000 km through the deserted country of the outback, we finally reached Beltana. Glenys and John (whom we first met in Alice Springs) gave us a friendly reception and showed us to our room in the big house. Normally they live and work 1.200 km north of Beltana in Alice Springs and only occasionally visit for holidays and to make sure everything is OK. After two days they left us alone.
We have enjoyed the silence and beauty of the place and recovered from the stress of our travels.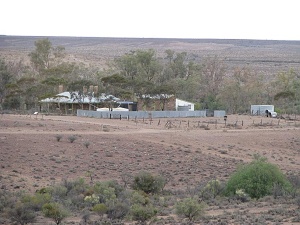 Beltana is an unusual place with an indescribable atmosphere. The on-line encyclopaedia Wikipedia calls Beltana a "semi-ghost town". In former times it was prosperous with up to 500 inhabitants. Nowadays there are only a few people living here. As well as 2 or 3 Aboriginal families, we met Simon who is writing a book and Marian who lives at the Old Telegraph Station and is an artist.
The European history of Beltana began in 1870 with the discovery of copper. A Telegraph Repeater Station was built for the Overland Telegraph Line and this was followed by the original Ghan railway line that went firstly to Oodnadatta and then to Alice Springs. When the mines closed and the railway line was re-aligned west of the town, jobs disappeared and people started leaving.
Most of the 21 million Australians live in a boomerang-shaped area along the eastern and southern coastline where the land is fertile and food crops can be grown as in Europe. It is here that the big cities of Sydney, Melbourne and Brisbane are. The settled areas are small in comparison to the outback of Australia.
People who live in remote parts of Australia get their water from under the ground, so-called "bore water". This water comes from the biggest and deepest underground natural reservoir on earth – the Great Artesian Basin. Thousands of kilometres away, rain seeps into the rock strata where two million years later it is pumped up to the surface for people and stock animals to drink. It is quite salty and takes a while to become accustomed to the taste. In Beltana, as is common in the outback, windmills are used to pump the water from deep underground. Because of the never-ending wind, windmills provide an alternative energy source that is technically simple and environmentally friendly.
As well as the bore, Glenys and John also collect rainwater from their roof when it rains (which is not very often) and store it in two large tanks. From there an electric motor pumps it inside the house. In order to save every precious drop of water they have installed a complicated system that uses both bore (in the bathroom) and rainwater (in the kitchen).
The house was built in 1881 as a Police Station and Glenys bought it in 1979. Behind the house there is a row of three cells where prisoners were kept. Nowadays they are storerooms. She is planning to retire to Beltana after Christmas this year. She loves the place because of (and in spite of) its quietness and isolation. You have to be a special kind of person to live at Beltana, it's not for everybody. andreaslina@yahoo.de