home velotour 2004-2008 contact

update reports pictures
report 49&nbsp&nbsp report 50 report 51&nbsp&nbsp
Report 50 +++ September 2008 +++ Dirt Roads
When we left the famous Stuart Highway we discovered another Australia. If you are looking for adventure and more interesting countryside you have to cycle the "dirt roads". We cycled more than 500 km on a dirt road, the Oodnadatta Track, and it was not always fun.

A dirt road is made of sand and gravel with no asphalt. Often these roads are so bad that you have to push your bicycle. (Perhaps this is why Australians use the word push-bike for a bicycle). Normally you need a 4 WD car to travel on the Oodnadatta Track, and to travel here with a bicycle is really an adventure and a challenge.

You must be well prepared with good maps and you have to know where you can find water. If you lose the track and get lost you may die of thirst. In the first stretch (Coober Pedy to William Creek) there was no water for 160 km so we carried 22 litres of water. With more than 20kg of food, each of us carried more than 70 kg of luggage on the bicycle.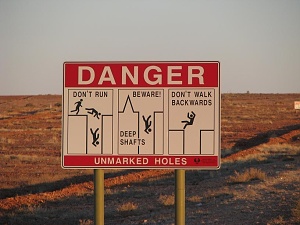 The road was in very bad condition. There were many sandy patches and bull-dust holes and I had two falls from my bicycle. The first time I wasn't prepared because I was used to the good conditions of the Stuart Highway. I injured my knee badly but fortunately it was not broken. The next day it was almost impossible for me to get on the bike, and it was painful for another week. I was also afraid to cycle again because I worried that I could fall. Actually I did fall the next day, but this was not so bad because I was much more attentive to my surroundings.
For once we had favourable winds from behind and we were able to cover the 160 km in two days without needing to fill up with water. William Creek is small township on the Oodnadatta Track. The road got better and there were more possibilities to fill up with water.
Until 1980 there was a railway line that linked Port Augusta and Alice Springs (1330 km) and the Oodnadatta Track follows this through the outback. The line is now abandoned because it was too expensive to repair the track which was often washed away by floodwaters. Ruins of the fettler's cottages are still standing along the line and you can get bore water (see Report 51) at these places. Bore water comes from deep underground and as it is usually too salty for people, it is used for cattle. If it necessary, you can drink it and you soon become accustomed to the taste. We were very happy when we had good drinking water.

It is also possible to camp in these old buildings and we were very grateful for this the day we ran into a dust storm with wind speeds up to 120 km an hour. The sky went dark and the sun escaped in a red flurry of sand. The wind blew so strongly from the side that it was impossible to stay on the bicycles. Fortunately we reached the sheltering ruins of Curdimurka after 10 km. There we met some motor-cyclists who also found the winds impossible to ride in.

Suddenly we received a big surprise when our friend John came through the door. He had driven 250 km in his Range Rover from Beltana to make sure that we were all right. He was probably surprised to find us in such good condition. He said that he had had to clean out the air filter of the car three times on the trip because of the dust and sand in the air. He had not experienced such a storm for many years; visibility was so bad that he had to look out the side window to stay on the track. John vanished in a flurry of sand after half an hour and it was another 5 days before we met him safe and sound in Beltana.

The next 50 km had hardly any cover, just small bushes. We would have survived sheltering by the bicycles but it would have been extremely unpleasant. andreaslina@yahoo.de